VirusChris: Power of the Nazo Virus is a game being made by a teenage boy using the RPG Maker XP and is based on his manga series also called "VirusChris". The game is three games long and each game plays each arc of the story of "VirusChris".
Coming soon...
Characters
Edit
The HeroesEdit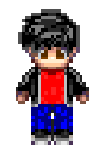 Chris Yuushi:
The Main hero of the series.
George Genkotsu: Description coming soon...
Ami Roze: Description coming soon...
Vincent Dirge: Description coming soon...
The VillainsEdit
Organization Light: The main enemies in the series.
Future Appearances
Edit
Will appear in two upcoming VirusChris games.
Locations
Edit
Heaven Hill - Chris's Home: Chris's Home and starting point.
Gameplay
Edit
Custom Sprites and Battlers graphic by Chris
Default music by RPG Maker XP
Reception
Edit
Good
None so far
Bad
None so far
VirusChris: The Nazo Twilight Gems
VirusChris: Ragnarok Virus Chronicles