The Book of Three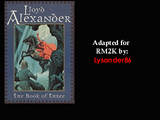 Creator: Lysander86
Genre: High Fantasy
Gameplay Time:
Status Complete
Completion: Complete
Website: None
An RPG made by Lysander86 based on a book of the same name, by Lloyd Alexander.
Once a long time ago in the country of Prydain lived a boy named Taran of Caer Dalben. He was never satisfied with his farm life. He thought he should be a brave warrior instead of being an assistant pig-keeper. Until the day that the bees swarmed and the chickens flew, he was just a normal farm boy. Taran had been working in the garden when his adventure began. Dalben told him to chase after Hen Wen, the oracular pig, who had broken loose from her pen and run into the forest. Taran chased after her. . .