Super Hop the Border RPG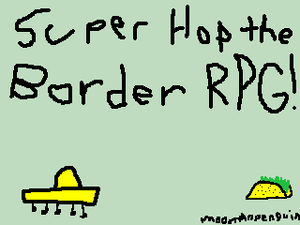 Creator: thewrongsorcerer
Release: Dec 21, 2012
Genre: RPG
Gameplay Time: 2 minutes (estimated)
Status Completed
Completion: 100% Complete
Downloads:
Original: mediafire
Game of the Year Edition: mediafire
Holiday Special Edition: mediafire
Super Spooky Edition: mediafire
2016 Edition : mediafire
Super Hop the Border RPG is a free role-playing game made by thewrongsorcerer in RPG Maker 2003. The game seems to be made as a joke as its trailer claims that it was made in only 2 hours.
There are five different versions of this game including the "Game of the Year Edition" and the Holiday Special Edition.
You are Juan, a Mexican looking for a better life in America. You must face great challenges in your attempt to hop the border.
Characters
Edit
Juan - A Mexican who wants a better life in America
Bandito - (GOTYE onward)
Border Patrol - Protectors of the US/Mexican border
The Klan - (GOTYE onward)
Trump - (2016 edition)
Mystery Summon - His time is now
Locations
Edit
Mexico
The Border
America
All graphics were made by thewrongsorcerer.
Title Theme - Mariachi Live Music - Mexican Mariachi band play Traditional songs by ascoltalamusicavideo
Mexico (Classic - La Cucaracha by Mariachi Aguila Real
Mexico (New and Improved) - (GOTYE only) La Cucaracha by thewrongsorcerer
Mexico (GOTYE) - (GOTYE only) - Sombody that i used to know by Super8bitmusic
Battle Theme - Best Mariachi Music by various artists
Victoly - (GOTYE only) Victoly by thewrongsorcerer
America - The Star Spangled Banner
Special Editions
Edit
In addition to the original, this game has 4 special editions.
Game of the Year Edition
Holiday Special Edition
Super Spooky Editon
2016 Edition
Reception
Edit
This game has received mostly positive reviews including a score of 10/10 by xGhostProtocolx.
The Super Spooky edtion also got xGhostProtocolx's Best Horror Game of 2014.
External links
Edit
Trailer: http://www.youtube.com/watch?v=RT3QguC2K6Q
xGhostProtocolx's Let's Play: http://www.youtube.com/watch?v=gCVU7_Xqsc4
Holiday Special Edition Trailer: http://youtu.be/154KWchlHZA
Super Spooky Hop the Border RPG Trailer: https://youtu.be/EF_FBoCXMF0
Ad blocker interference detected!
Wikia is a free-to-use site that makes money from advertising. We have a modified experience for viewers using ad blockers

Wikia is not accessible if you've made further modifications. Remove the custom ad blocker rule(s) and the page will load as expected.